Bhima Ratha Shanthi is the set of Poojas and rituals that are performed for the couples at the start of 70th year. It is usually organized and celebrated by the couple's children or in laws or relatives.
Filter by attributes
Currently shopping by:
Print Technology: Screen Print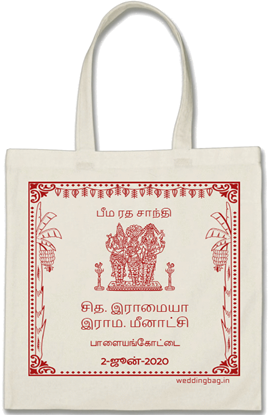 COTTOT-WH-01
One of our fasted moving Thamboolam bag. Looks rich and elegant and has good space to hold your thamboolam items. Handy and trendy. Haul your belongings in style with our customizable cotton tote bags. Available in multiple sizes to fit all your lugging needs, these bags are made of 100% natural material and can be customized with your favorite text for the perfect gift or casual accessory. Versatile, trendy and durable, this custom tote means you'll always head out in personal style! We can customize it to any size and color as required !